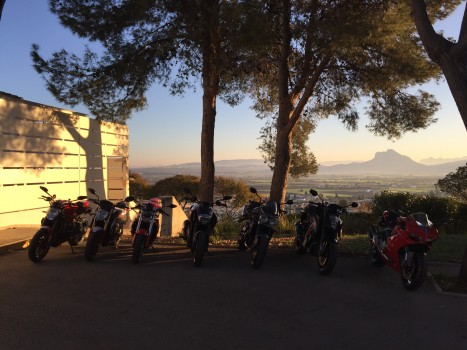 The 7th annual Season Starter trips in southern Spain are already over and we are back in the UK, but the memories are still very much alive! Every year we head to the glorious roads of Andalucia with a fleet of motorcycles and offer our guests four days of stunning riding, this year was no different.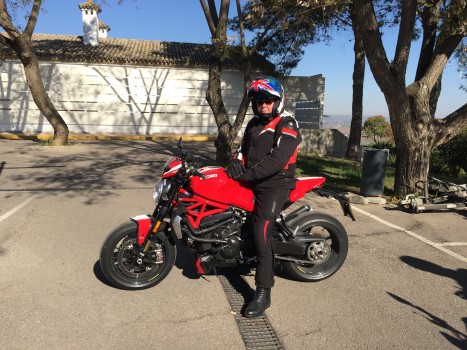 With bikes including the unique Ariel Ace, brand new Ducati Monster 1200R and 959 Panigale, the crazy MV Agusta Brutale 800 RR, a Spyder Club favourite in the Ducati Diavel Carbon and a bike all our members rave about, the KTM Super Duke R.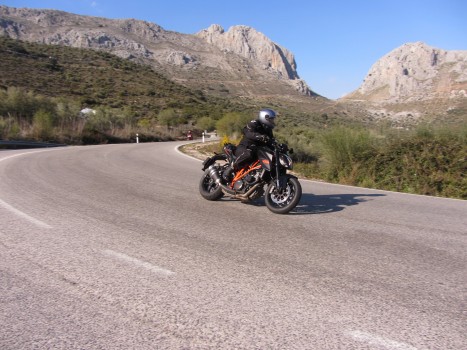 With two groups joining us, it is never long before guests start discussing the bike of the trip, and this year was no different. By day two, guests had ridden most bikes and two were rising above the rest. However there were plenty of other praised motorcycles!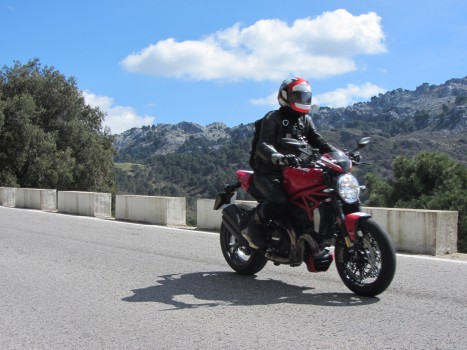 The MV Agusta Brutale 800 is a cracking motorcycle, regardless, a few days prior to leaving for Spain we upgraded it for the more powerful and better specced RR. There are minimal gains over the standard bike but that's not why you have the RR. Over twisty mountain roads, there is seldom any more power required than that of a Street Triple R, but the MV sounds, looks and rides with that little bit more, something, flair!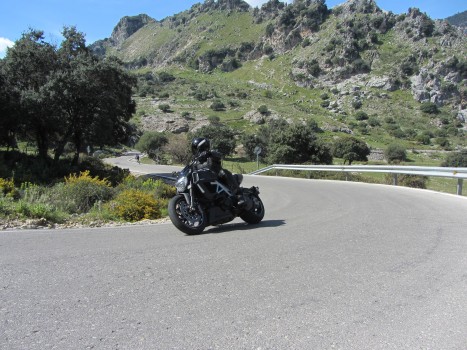 The MV is frantic, mental, frenzied, all in a good way that allows you to ride hard and enjoy it, brilliant! The Diavel is no different!! It's the second trip our current Ducati Diavel Carbon has been on and both sets of guests loved it.
It stands out because it does what so many don't believe it can. It corners impeccably and that fat rear tyre means you can stand it up and fire it out of corners with confidence. The acceleration and stopping power are outstanding, it's comfortable, and at Spyder Club, everyone loves it, the purchases after members have ridden it prove that!
We also took the unique Ariel Ace, with power and reliability coming from a 1200 V4 Honda engine and a 70 hour build process creating the stunning aluminium frame, we were all looking forward to riding it. It's a very good bike, there are things that initially put you off but spend real time on it and you understand its attractions and abilities. The Honda power plant makes it responsive and predictable, the front end is stable and feels good into a bend, however I'd like more familiar tyres on it to push it harder.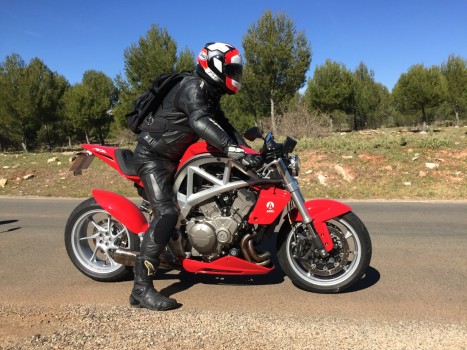 The Ariel did divide opinion but, those who rode it briefly weren't convinced however those who rode it for longer periods, found it got a lot better, it really is a bike you need to spend time on before you spend your money! Not like the Ducati 959 Panigale, wow!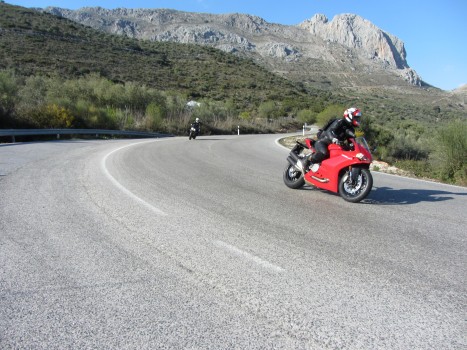 A Spyder Club member who joins us on the most fly-ride motorcycle trips put it perfectly, it's a supermodel that works!!  What does that mean?  Not only does it look beautiful and does exactly what it should!  And it bloody well does!  The 899 is, was my favourite sports bike, enough power to scare the crap out of you but handling to cope with it and make you feel like a MotoGP legend.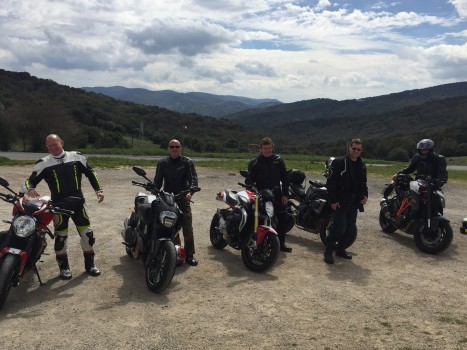 The 1299 was equally as good but for me, I'm not talented enough to be able to use 200 bhp, 150 is still more than I need. But the 959 Panigale, yes the bigger exhaust to some makes it look less appealing, is just so much better. How, no idea, but it is!
Immediately it felt right, perfect, the engine is a gem, smooth but still retaining the character we love from Bologna. On fast sweepers, bumpy back roads and twisting mountain passes it just performed without fault, never feeling anything other than confidence inspiring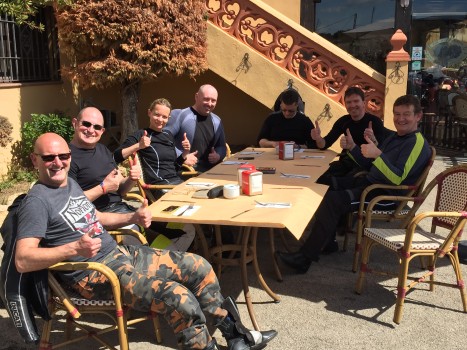 You look at where you want to go and it goes! Open the throttle and it pulls beautifully, I love it, the only issue for me, it's a sports bike and I like to be upright, getting older! On to the Monster and Super Duke!
Sadly, and again, I missed out on riding the KTM Super Duke R, well I am just the tour guide! Despite owning the bikes, the guests ride them and if we get a go, brilliant! And I did ride the Ducati Monster 1200 R, the first to do so and up the Ronda road, welcome to motorcycling heaven!
As we arrived at the usual lunch stop just outside of Ronda and at the top of the famous A-397, I couldn't stop the praising, 'oh my God, that is the best bike, ever,' said the 5 year old me!! It's perfection in red. I loved the standard and S model Monsters but this is just so much better. Why? Everything, the smooth engine, the V-twin noise and character, the breathtaking handling equal to the 959, pinpoint sharp, look and go, corner to corner. At 160 bhp, it flies too, big wide bars make it comfortable and mean you can turn quickly. I love it, love it, love it!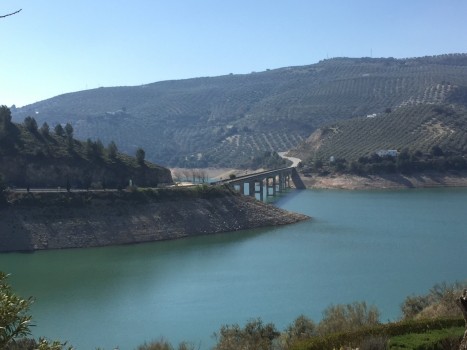 Prior to the Monster, the KTM 1190 Adventure and 2015 Ducati Multistrada were the bikes I'd have had if I could only have one, not anymore, Monster, Monster, Monster, 1200 R!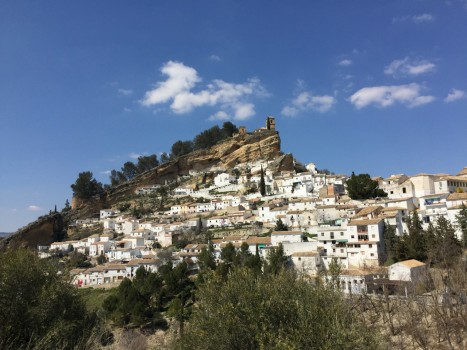 And the guys agreed, well until they rode the KTM Super Duke R. It's the same story, the same praise was given to the orange machine as the Monster and in the end, after many guests rode the two bikes back to back, it was individual preference but always with the understanding that choosing between them was like splitting hairs. I didn't, as said, ride the KTM Super Duke R so I can't offer an opinion but our guests fell for both. The Monster and Super Duke are both incredible machines, faultless, and the majority of our guests have ridden a lot of motorcycles to be able to make their statements! Spyder Club has now run over 150 different machines in our 8 years of existence, our members therefore get to ride many of the latest motorcycles.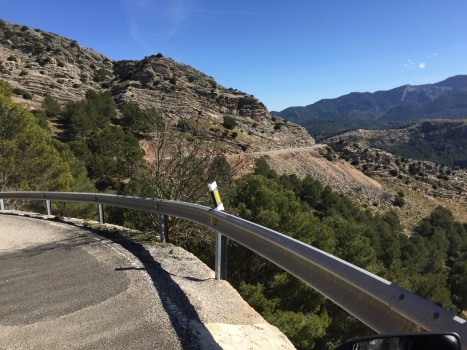 Each year we take a new fleet to southern Spain and this year was no different.  Next year we'll do it all over again, we'll have details online very soon, a few new routes to include, so if you want to start your 2017 season in style, let us know!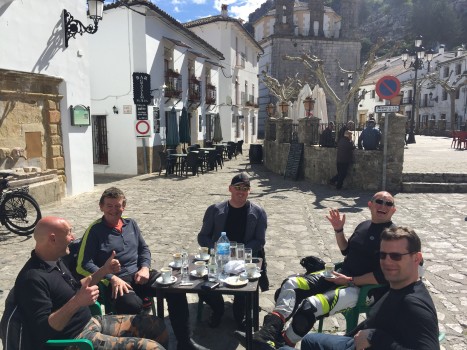 Finally thank you to Ducati UK, KTM UK, Bennetts Motorcycles and Ariel for your help as ever, and most importantly to all our guests, new and faithful, we really appreciate you joining us in Andalucia and look forward to seeing you all again very soon.