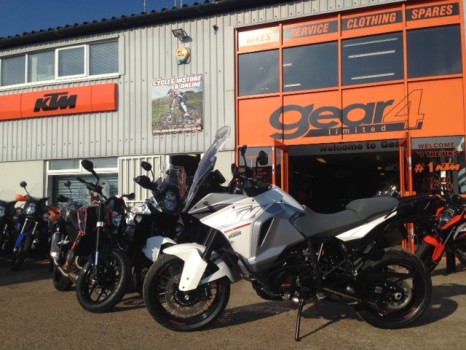 Yesterday I did a back to back adventure bike test, riding the new Spyder Club KTM 1290 Super Adventure, straight after jumping off one of our BMW R1200 GSA bikes. The GSA is effortless, comfortable and a really lazy ride, progressing swiftly if not super fast but with so much ease it does makes you feel right at home in your favourite armchair!
It is so easy to see how the BMW can take you around the world. OK, it's a tall seat and with luggage the weight may cause an issue for some but the low seat, which we also have at Spyder Club, would certainly put that to rest. It's weight does slow it down a little, as the power is asked for there seems a little delay. Whether a character of the shaft I haven't noticed on lighter bikes before or just down to the additional kg's, I'm not sure.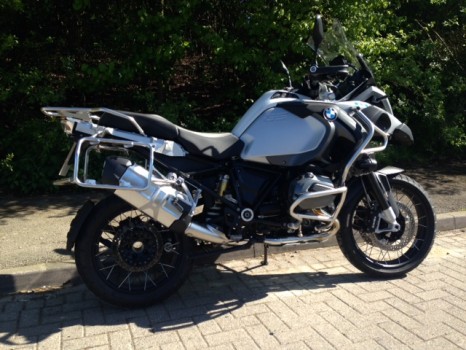 Spyder Club is also running a BMW R1200GS, non-Adventure too and the member who has just returned it after considerable mileage raved and raved as he jumped off; highly impressed at its all round ability, and this from a man who owns a Multistrada, arguably one of the best all round road bikes on the planet!
It was my first long ride on the GS Adventure and I really enjoyed it. The road didn't always allow me to enjoy the bike properly, but the numerous bits that did were so much fun!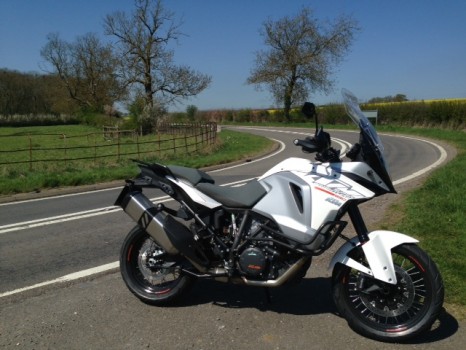 The KTM was a shock initially, getting off the soft seat and nicely sprung suspension of the GSA, on to a much harder seat and far firmer ride the KTM offers. However a few turns later and it felt like home! The Super Adventure is much quicker but then it would be with another 45 ponies.
It's very quick, making overtakes in the blink of an eye and it felt it after the bigger and heavier BMW. The 1290 is physically smaller and definitely a sportier ride, the additional power encourages you to push on and boy can it push on! The suspension may be firm but that means cornering is smooth and planted. Both bikes provide a mountain of confidence when enjoying a motorcycle as they should be, from bend to bend! Cornering is stable, at the right speed of course, and unflustered with a wallop of torque to fire you into the distance, brilliant!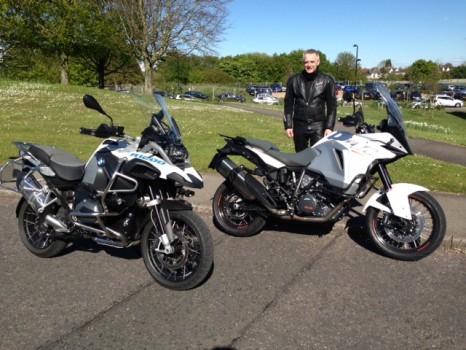 A few days ago having just picked up the Super Adventure I met a member who was riding our Ducati 1199 and of course we swapped. It is unbelievable just how able all bikes are these days. Of course the Ducati is quicker, straightaway I felt at home and able to enjoy it through the challenging bends we were riding, but the KTM was there, hammering along at a pace many sports bike riders would be proud of!
On arriving at my destination yesterday I handed the BMW GSA over to our member who had been using the KTM. He preferred the GSA, finding it easier to handle and really enjoying his evening ride. Personally I think both bikes are exceptional in different ways. The KTM is very swift on the road, progressing with astonishment. The BMW on the other hand just laps up the road, easing across the tarmac with confidence. Which would I choose, I'd join Spyder Club and try all of them!!