Our first ride on the Monster 1200, we look forward to these and especially when it's a Ducati because they make really good motorcycles! Ducati bikes handle, have character in abundance, go like stink and look stunning to boot. This one didn't disappoint!
So here it is, the new Ducati Monster 1200 finally joins the Spyder Club fleet after what seems like an age since we ordered it (just anticipation) and it's good. I wasn't sure what to expect, it's a Diavel chassis with a smaller section rear tyre and a little less power from the same engine.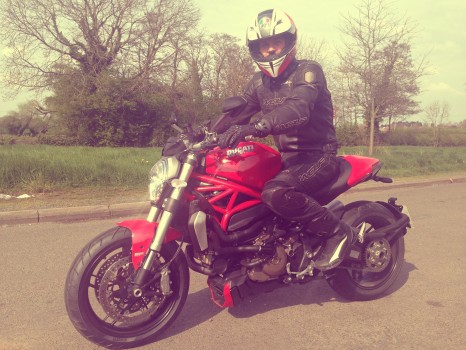 The Diavel is probably the best smiles per mile bike, it stuns all that ride it with its unbelievable ability to go really, really fast on any road. Like the Multistrada it's a do anything bike, especially in Strada form, so what is the Monster for?
It's for fun and loads of it! The Monster has a sportier riding position than the Diavel or the Multistrada, however the high bars provide all day comfort and the pegs aren't too taxing at the same time as lending themselves well to moving around the bike when you need to get the adrenaline flowing and make a little more progress!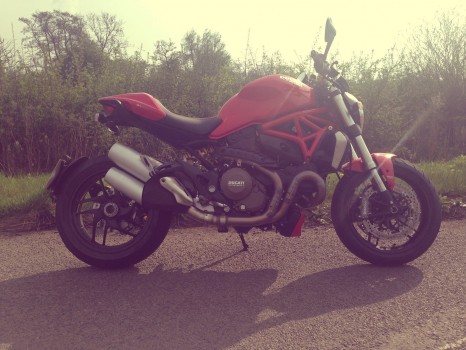 The chassis is long, so just like the Diavel, braking is first class, unflappable when really pulling the anchors hard. However under harder acceleration the front does lift a touch which wasn't expected but added to the entertainment!
Regardless of a slightly flighty front wheel, if pushed, it's very planted and provides confidence from the outset. The roads ridden were good enough to give it a proper test, enjoyable A and B roads which did everything apart from long sweepers and tight twisties but the Monster was so stable.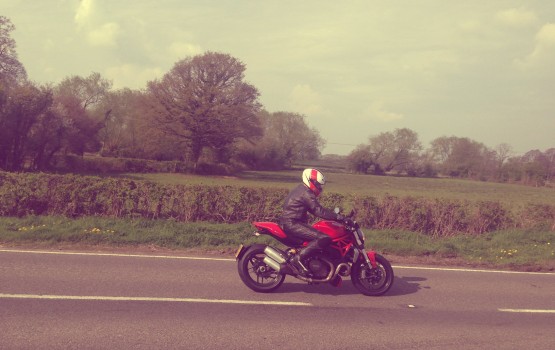 Even with its long wheelbase you can imagine it dealing with hairpins just like its Diavel brother or like the recently ridden KTM 1190 Adventure, similar length chassis and in Spain last month, a dream on all roads, hairpins included! And the Monster is going to go round fast sweepers very well, it's built for it, chuck a screen on the front, a bag on the back and head anywhere you want.
It's a tried and tested engine being used in the Diavel and Multistrada to great effect and in the Monster 1200 it's a star! It may not be as powerful as the other two but honestly, who'll notice with that much torque? It pushes really hard in sports mode and is perfect for the chassis.
It wasn't a long ride, just enough to get a feel with this excellent motorcycle. The only thing that takes away from the experience is the position of the rear foot pegs and exhaust that can give the rider pigeon toes when on the balls of your feet. It's not a big deal but like the Streetfighter it just takes a little getting used to before you feel properly comfortable.
Once again Ducati have produced something special, a bike that works really well at the same time as being a little different. I really enjoyed it, straight away it proved its ability, straight away it offered confidence and entertainment. I'm looking forward to riding it again very soon!