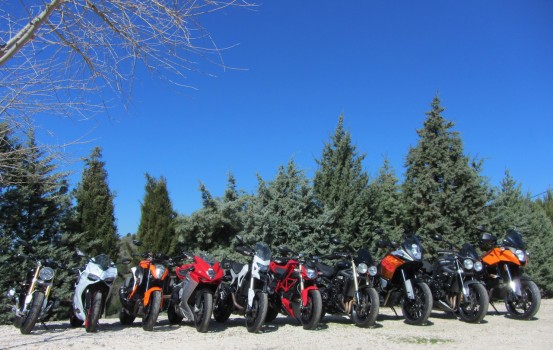 We have been experiencing perfect riding weather, staggeringly good roads and an exceptional fleet of motorcycles, but it's not just us at Spyder Club who thinks this, it's our guests too:
'I just wanted to drop you both a massive thank you for a great few days. Great fun, great bikes, great roads, great company and above all great hosts. It felt like going on a riding holiday with your mates, except your mates take all the hassles out of it e.g. organising food, routes, bike problems, even buying the beers !!' Tim M, member since 2011, 1st trip to Spain.
'Thank you for organising a really good trip, I really enjoyed myself (just need to recover now). Routes – they were all good a great mix of old and new, even the "road of bones" was interesting and added to the adventure. Bikes – a good mix of bikes and I enjoyed riding them – well nearly all of them :-). Not sure which I liked most, but the KTM Adventure stood out as a good all round bike, the Panigale was a highlight on the right road. I'll have to book the MV when you are back in the UK to give that a try. Company/Riding – a good mix of people and riding ability which made it enjoyable both on and off the bikes.' Neil S, member since 2010, 4th trip to Spain.
'You and Lizzi do a fantastic job. Neil had a lovely time, got home at lunchtime tired but happy. He chirped on about what a good time he had, how nice the group was and told me about the bikes. He is now fast asleep in front of MotoGP!' Alison S, Neil's wife!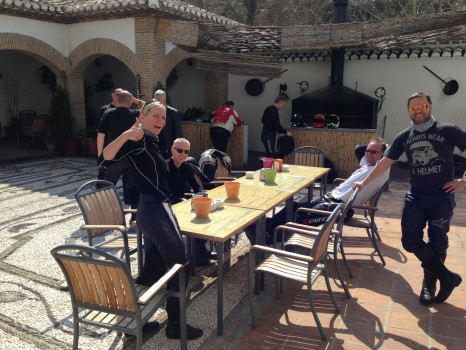 'Back in blighty safe and sound. Thanks again for a great time. A good bunch of people all round.' Sean W, member since 2010, 1st trip to Spain.
'Thanks so much for a cracking four days, I'm sure to be joining you this year and hopefully for many more. I'll probably start on that beginners package as you suggested and see how it goes. The trip and club has a lovely feel with a terrific group of members all with a common interest, got to be good for business. We'll no doubt discuss more on your return. I really enjoyed riding bikes I'd not normally bother with, with my standout bikes of the the trip the Streetfighter 848 and R nineT.' David S, new trip guest.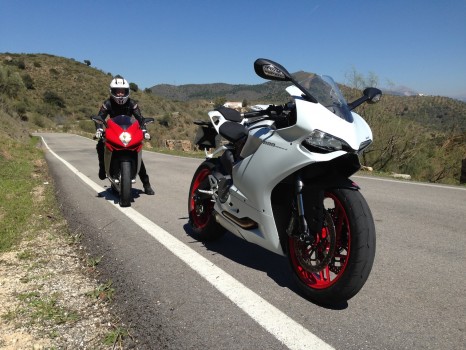 The bikes have of course been the stars of the trip and wow! The Ducati 899 Panigale is a stunningly quick, capable and efficient motorcycle on the right roads, making everyone feel like a MotoGP rider with it's perfect power to weight and beautiful soundtrack, especially when using that blissful quick shifter!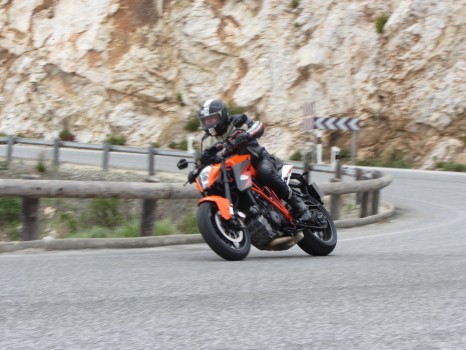 The KTM 1290 Super Duke took everyone a little time to get used to it but by the end of the trip, when everyone had ridden it a few times their feedback was all the same, brilliant! A cracking machine that grows and grows on you the more you ride it, easy to ride slowly but blisteringly quick when required a great motorcycle.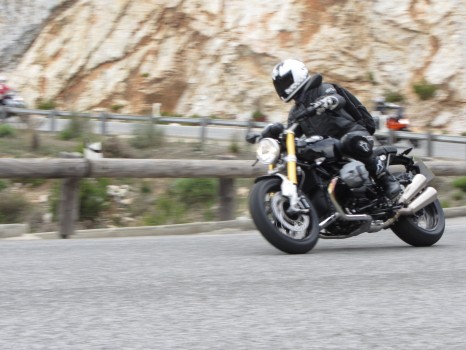 The BMW R nineT, very impressive, beautiful looks, stunning handling and enough power to have a lot of fun with, and a growling burble on throttle off, perfect!
The Ducati Streetfighter 848, three potential new owners, it just does everything you need on the road, good power, great handling and it's a red Ducati!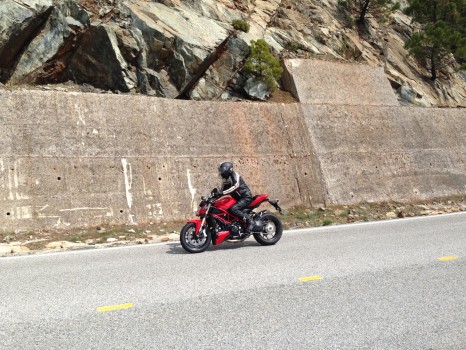 The MV Agusta F3 800, it's an MV, with 150 bhp, a quick shifter, slipper clutch and a lovely, unique induction sound, a great sports bike.
The KTM SMT, Ducati Hyperstrada and Triumph Street Triples have also received high acclaim with enough power for everyone and handling to lap up all that lays ahead of them with confidence and incredible ability.
But the star of this show has been the KTM 1190 Adventure MSC. Like it's Ducati MTS rival on past trips, it just does everything, and in the case of the KTM, absolutely everything! The power is exceptional, the handling incredible and on all the roads we've ridden, long sweeping straights to tight twisting hair pins, it deals with all in its perfect stride.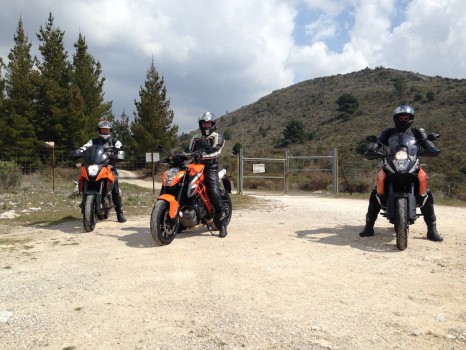 Prior to our guests arriving we, Spyder Lizzi and I, took a busman's holiday on the Adventure, Lizzi choosing the pillion seat rather than her own bike. We set off for coffee at a little spot we know with lovely views at the end of the very entertaining A-356. Two up the Adventure was just as inspiring, change the suspension settings using the simple electronics and away you go. Even with two onboard the bike dealt with our spirited journey down to the lake brilliantly, providing good feeling on the road and offering plenty of power to nip by the dawdling cars.
In summary, this years fleet has made Spain exceptional; it's diverse and each bike has made its mark on Group One! Roll on Group Two, Group One have left their mark, good riding, great guys and good times, no pressure!!

Take a look at our three short films of the motorbikes since we've been out in Spain: