Apparently there are those who don't think the production model of the KTM Super Duke 1290 looks as good as the pre-production model, personally I like it a lot! I love the aggressive stance of the current Super Duke and having ridden it briefly, it's a bike I'd like to ride a lot more, loads of go, huge character and the unique style of a KTM, brilliant!
During the last five and a half years Spyder Club has had a KTM 950 SM, 990 Adventure, RC8, 2 RC8 R's, 2 SMT's, a brief stint with a Super Duke and a 690 Duke. Each has been problem free and far better than they need to be! Take the 690 Duke, a single cylinder engine with 70 bhp, it doesn't sound overly enticing however jumping on it is a very different experience.
My first ride was in the IoM at the TT on a bit of unrestricted road which, unbelievably, was quiet. I believe the kids would say OMG! The engine just goes, and goes, and goes, revving higher and higher, pulling consistently over the rev range, brilliant.
At 150 kg it's also very flickable, heading into the first corner there was absolutely no hesitation with doing so at speed and with complete confidence. Pulling over later the guys behind asked if I'd ridden the bike before, no! Needless to say, everyone wanted to ride it thereafter.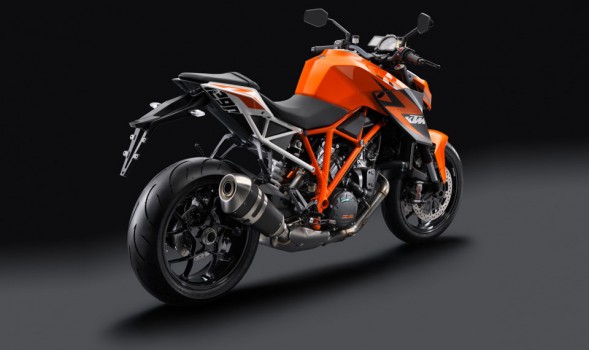 Each KTM Spyder Club has owned has been very highly rated by members and trip guests. The RC8 R was breathtakingly fast, deceptively so, and comfortable too. The SMT impressed loads of our membership because it does everything so well, with enough power to deliver you to B very efficiently without launching you into oblivion with ridiculous amounts of bhp. A workable motor rather than one you hang on to, one of my all time favourites, so far!
The Adventure was another bike that just worked, at 200 kg dry it was one of the most stable motorcycles I've ridden at low speed. U turns just happened, head round and there you are! Our 950 SM wasn't a bike used by many members because it was one of the first we had, 10 bikes, no members, you get the picture. However we used it a lot and loved it, it became our commuter bike at a time when we were still not the most experienced riders. It flattered you, lifted you up, off the sports bars and up on to the uprights, providing you with the road ahead and a bike that had power, presence and performance, ultimately making you a far better rider.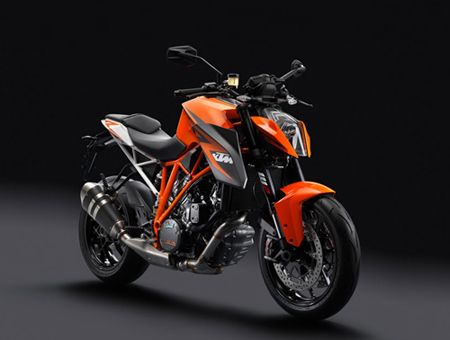 So the Super Duke 1290 has a lot to live up to, but look at it, there's no way this bike isn't going to take the biking world by storm. It's already highly anticipated by our membership who can't wait to see it on the fleet early next year. I tend to agree with them!