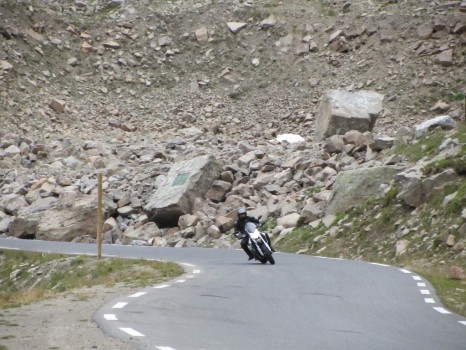 Spyder Club have been enjoying a fun filled few days in the stunning region of Provence.
Having tackled the Cols du Turini and de la Bonnette on the first day, the second was spent riding over the deserted landscape of Col du Galibier and the twists of Alpe d'Huez.  Today sees the gang heading for the lunar like scene of Mont Ventoux before ending the fly-ride trip down the Route Napoleon to Nice tomorrow.
Guests are enjoying the new MV Agusta F3 800, Ducati Hyperstrada (so far the most popular bike on the twisty Alpine passes!), KTM SMT, Ducati Diavel Strada, BMW HP2 and Ducati 848 and have been swapping bikes throughout.  One of the benefits of the Spyder Club trips, besides the stunning routes and locations is the ability to ride all the different bikes and get an extended test ride on a short trip.  Not too much time away from home, family, work or business.
Spyder Club will be heading back to Spain in November for some riding in the winter sun and to watch the last round of MotoGP at Valencia.  If Silverstone was anything to go by then all three races should be should be real spectacles of motorcycling wizardry!  Get in touch if you'd like to join us.