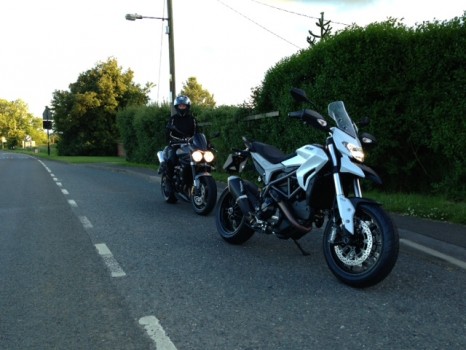 The ignition illuminated showing just 8 miles on the clock so the first 20 miles were very tame, scrubbing the tyres and easing the engine into life.
Initial impressions were… different! I felt like I was on a push bike as the bars are quite close, I'm 6ft 2, and it feels small. The engine showed it's potential straight away: smooth, grunty, power even when riding it easy and it sounds lovely!
20 miles in and I started to settle into it, enjoying the different riding position and feeling more grip from the tyres, and then the engine was pushed just a little harder! Wow, different isn't wrong and in this case it's very right.
I'm not sure at this point what the tank range is but the bike is comfortable and the screen does just enough to keep the wind off at bigger speeds and with the addition of the panniers could easily be used to tour, it would be blissful through the Alps! We'll find out next week!! But this is a fun bike, a bike that will keep you smiling and your licence in tact.
Last year we had the hugely popular and accomplished Husqvarna Nuda R and the Hyperstrada is as good. Ducati may see that as a slur but members all raved about the Nuda, it made every rider better, was super smooth and handled like a dream, the Hyperstrada does all of this too.
The upside to the Ducati is you can mount large panniers to it and take it away. This is a bike Spyder Lizzi is also comfortable on at 5ft 8 and 8st 7, she's not worried about the massive weight when fully loaded as the Hyperstrada starts off looking like a more manageable machine in the first place.
Whilst the bike feels small the wheelbase is long enough to offer incredible stability through corners and under breaking.
First impressions, after an uncertain start I've fallen for another Ducati, massive fun, usability and funky to boot. And it's not even run in yet!!