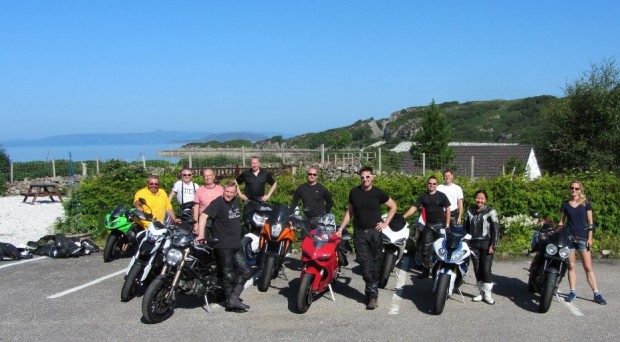 Each year Spyder Club heads north of the border and each year we are staggered at the scenery the west coast of Scotland has waiting for us!  It's one of the most beautiful countries in the world and also has some of the most entertaining roads for the motor enthusiast.  Whether on two or four wheels, Scotland has to be visited.
This was our fourth trip to the Highlands, with 7 of our 10 guests returning for a second, third or fourth visit with Spyder Club.  We have always been lucky with the weather but this weekend's trip was blessed with perfect blue skies meaning Scotland was at its very best!  Are we heading back next year?  Absolutely!!
There are many great roads to try but some of the best have to be: the twisting A816, the sweeping A87 and the scenic and deserted A832, however given a week you would find many more.
As usual the fleet we provided our guests with became the subject of many a conversation!  The Ducati Hyperstrada continues to impress as does it's KTM rival the SMT.  The Victory Judge is also being enjoyed and made a lot of sense through the sweeping roads of the Highlands.  The Monster and Street Triple's proved they are both cracking all rounders and the super bikes let us know we are just mere mortals!
However, all of the bikes ridden along the 600 mile route were stunning: from the Ducati 1199 Panigale, BMW HP2 Sport and HP4, Bimota DB4 and the Norton Commando, along with the others mentioned and two guests bikes, a Ducati 848 and Kawasaki ZX6R.
Do you enjoy reading about our trips?  So why not join us then?  Our 2014 calendar is coming very soon and there are places left on the September Provence trip and the just published November Spain and Valencia MotoGP trip?