We are lucky enough to have some very interesting members at Spyder Club and as you can expect, all of them have a heathy interest in motorcycles! There is one member however who has devoted the last two years to developing something a little special!
At last weekends Goodwood Festival of Speed Zef Eisenberg and his Maxicorp team launched the Streetfighter version of the British Land Speed turbine record holding bike, set by Zef in 2012. The land speed bike has been in development since 2009 and, along with Zef's passion for Streetfigter rides, has lead to this new creation.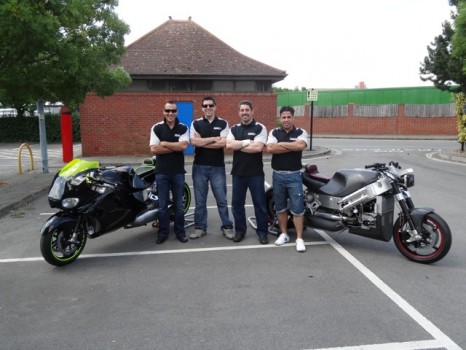 It's not for the faint hearted as it will hit speeds in excess of 220 mph in 1 mile and acceleration of 1.5 g is possible from the 2 speed semi-auto gearbox. It weighs 240 kg thanks to a combination of titanium, alloy and carbon kevlar parts and the power is 450 bhp! Oh yes, did I mention that power comes direct from a Rolls Royce Allison C2OB shaft (jet) turbine that usually drives an Augusta 109 helicopter!
This is an extreme motorcycle and if you have £175,000 + (depending on options) you can experience it, filling it up at your local fuel station with regular pump diesel.
This is an incredible achievement and the work that's gone into it is evident. If you meet Zef you'll soon work out he's driven, and we are really looking forward to seeing it run at our exclusive Spyder Club high speed day on the 9th August at Bruntingthorpe.