Given a choice which would it be? Both bikes have been at Spyder Club for a while now, the MTS since 2011, and both have their following. They are of course very similar in stature, weight and their ability to carry luggage and therefore perfect for a trips, but how do they compare when ridden?
The Multistrada was billed as 4 bikes in 1 when it first came on to the scene in 2010 giving it's rider superbike power and handling that can easily shame the plastic missiles. It really is a bike that can do everything. During the last two years we have had the standard machine for the majority of time but also a spell with the S version. The Multistrada S, with it's different mapping and suspension system is superb, ready for everything at the touch of a button. The power and torque are staggering. The first ride I had, bolt upright rather than bum up and head down, saw me nearly falling off the back as I wound up the throttle. The acceleration is incredible and once you get used to being sat up, very manageable in any of the four modes.
In a group of five bikes also including the Diavel, RC8R, Tuono V4R APRC and my trusty 749S out in Switzerland in 2011, our guests decided the MTS was the bike of the trip. It performed brilliantly on all types of roads from the tight hairpins of the Stelvio Pass to the more flowing turns of the Nufenen. With 150 bhp on tap in Sport and Touring modes, it would keep tabs on the very agile and powerful Tuono at the same time as pulling up on the brakes within almost the same distance as the long wheel based Diavel. And at high speed it would charge unconcerned with the faired KTM RC8R superbike, a marvel in it's own right!
Which brings us neatly to the KTM SMT, the challenger! Like the Multistrada this is a bike that a number of Spyder Club members are interested in buying having ridden it through the club. We were lucky enough to take a black SMT on our November Spanish trip in 2012 and the reaction from those who rode it was exceptional. A great bike in all conditions and all types of road! We bought our own for the March Spanish trip where we also had the MTS and it was interesting to hear the different opinions.
Firstly the KTM is down by about 40 bhp but it also costs about £3,000 less when new. Regardless, both bikes are very similar with an incredible ability to cover ground quickly in comfort, your head high above the cars providing valuable extra visibility. As with the MTS, the SMT offers as much confidence when pushing on through tight bends as it does through fast sweepers. There aren't as many horses but honestly, it doesn't need it. I love this bike, point it in the direction of challenging roads and head off into motorcycle bliss!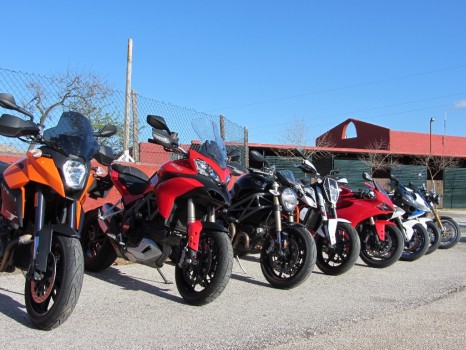 Myself and a member recently rode the Multistrada and SMT to another members house for the weekend. Both of us carrying luggage, we headed across the Cotswold's on a Friday afternoon. Our opinions were the same, Rich couldn't fault the Ducati, character in abundance, masses of power and handling that keeps it all in check, I felt just the same about the SMT. Spyder Lizzi was riding her Triumph Street Triple, another fantastic machine that many members have ended up owning but a review for another day!
I'm a Ducati man, my last three bikes before a turn on a VFR, have all sported the Italian flag however given the choice between the red and orange, it would be the Austrian!
However my opinion is moo (pointless joke, for those who haven't seen Friends) or moot as our membership is split pretty much straight down the middle. A number of members already own Multistrada's having ridden ours over the years and as the KTM is ridden more the visits to KTM dealer websites increase!
Both of these bikes are fabulous, great at covering large distances in comfort and style at the same time as handling challenging rides with ease, flattering their riders with stability and usable power. Ultimately it's about which one best suits you.
After 3 different Multistradas over 2 years on the Spyder Club fleet it is time for something new and our Hyperstrada has arrived, just in time to recreate the review Bike magazine did a issue or two ago!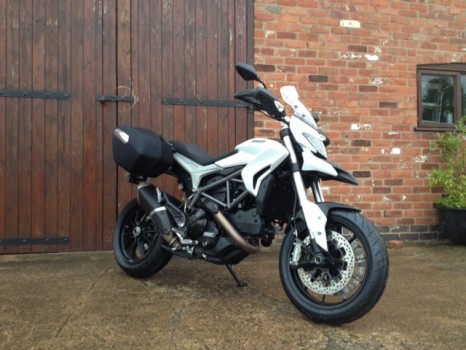 If you'd like to ride lots of different motorcycles so you can have an informed opinion of them, Spyder Club can help. During the last five years, Spyder Club members have had access to over 70 different machines, and that's only going to increase. Contact us, it's only a conversation about bikes after all!