This must make it 74 motorcycles over the past 5 years that Spyder Club members have been able to access! Maybe that's part of the reason we have 75% of our membership in their 3rd, 4th or 5th years with us and 80% of this years trip guests are returning!
Facts over, we are very pleased to have two new bikes on the Spyder Club fleet. With the 800cc'd Ducati Hypermotard causing a stir towards the end of last year with it's usable power, comfortable riding position and superb handling it seemed the logical step to take on the all new, liquid cooled 800cc Hyperstrada. A bigger tank, comfier seat and more power will prove very popular with the members.
And now for something completely different! Through member feedback we know the fleet needs to be diverse (as well as keeping the superbikes, fast nakeds, etc) and this is why bikes like the Commando, HP2 Sport, Griso SE, CB1100RC and our Bimota DB4 work so well. Therefore we have gone for Victory, the Judge has arrived!! Our first long term American cruiser is finally here and members are excited!
The Hyperstrada needs running in and then is available to book, the Victory is already out on it's first booking accompanied by the Norton!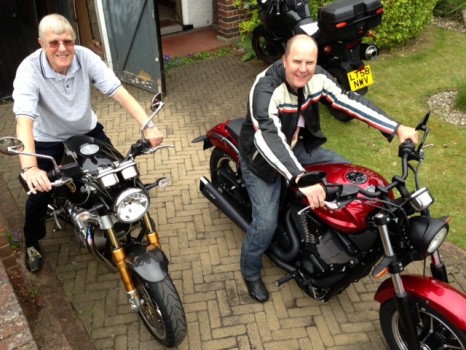 A very big thank you to Ducati UK for their continued support and belief in the Spyder Club concept, plus an equally big thank you to Victory, we are looking forward to a good future with this new partnership!!