We have just returned from southern Spain having run our 13th, 14th and 15th trips to the stunning roads of Andalucia.
This year the fleet was exceptional with every bike having it's fans and many of them on the shopping list once riders returned home! With guests being able to experience the Ducati Multistrada, KTM SMT, KTM 690 Duke, Ducati Monster 1100 Evo, Norton Commando 961 Sport, BMW HP2 Sport and the two superbikes of the moment, the Ducati 1199 Panigale and BMW HP4, I believe they were spoilt!!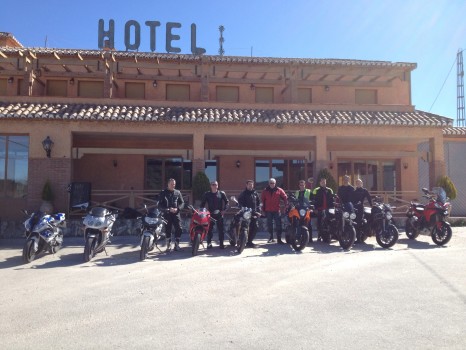 However the best part of the trip were the guests themselves. The standard of riding was fantastic and when the weather wasn't, still the riding proved outstanding. With each group having a day of rain and the Spanish roads being very slippery when wet, the chances of a drop are high but not when riding with such experienced riders.
However a Spyder Club trip isn't all about the riding, there's the social side during the evenings and each morning. This I will leave to one of our new guests to sum up and thank him for understanding the value of Spyder Club and enjoying what we strive to provide every member and trip guest with: good times and safe riding on two wheels!! See our short You Tube film.
Testimonial from Shaun C:
I wasn't sure what to expect when I was asked if I wanted to go. We wanted something 'special' to do with a client who has become a mate and I must admit Spyder Club sounded a bit special. When I was told I needed to contact Mark to talk about the trip, what I wanted out of it and for Mark to 'vet' us etc. I did wonder if this was a little over the top. We were paying to ride bikes for three and a half days, what's the issue. We pay our money and ride the bikes.
Now I have experienced the trip I fully understand why. This is a club. It's not just a company that hires out bikes, it's the whole experience. People who are lucky enough to go are welcomed as though they are old friends. Every single person of the 11 strong group were fantastic people from all walks of life. We all had a tale to tell and in the case one particular lovable ginger man many tales to tell!! Everybody just got on, it was as though we had known each other for a long time. We all had the basic love of very nice bikes but we had something else between us that felt welcoming. Our hosts, Mark & Lizzi are two special people. They work very hard every minute of the day. The group always comes first. They sort everything from checking the bikes, getting the bikes out ready to ride, preparing breakfast, setting the fantastic routes through the mountains of a very beautiful country, leading the group and ensuring everybody rides at their own pace, sorting lunch, getting us back to base, sorting evening meals etc. etc. They do not stop. While all of this is going on they still manage to pick us up from the airport, make all the arrangements while we are in Spain and still manage to smile and make us feel very special every single minute of the day.
The accommodation comprises a fantastic detached villa high up in the mountains. Everybody mucks in and the villa is just about right. It's comfortable with plenty of room for everybody. It's a great choice for a base with a wonderful Spanish feel. There were no restrictions on what you could do, just help yourself when you needed it. There were plenty of country walks if you had the strength. I didn't but that's because I had such a great time on the bikes and used up all my energy making sure I stayed upright. It's amazing how much energy is zapped by deep concentration. How the hell Mark manages to lead the group, ride at a brisk pace when required, make sure nobody gets lost plus all the other chores I really don't know. Let's not forget Lizzi. She stays with the pack and was willing to take the lead when there was a very small issue with one of the bikes that Mark insisted was resolved even though it didn't actually affect anybody's ability to ride it. This is the minute detail that the pair of them insist are in place which makes these trips so pleasurable for the guests.
The bikes are something else. Every bike was no more than a couple of months old, some were first time out, brand new!! There were top of the range sports bikes in the fantastic BMW HP4 and Ducati Panigale, both 195bhp super bikes. There was an HP2 (which I have to say I wasn't so keen on but that was me, not the bike) a KTM SMT which I really did like and have actually been considering buying for myself and a Ducati Multistrada. The beauty was you can compare very similar bikes back to back. In addition we got to ride the fantastic Ducati Monster and the beautifully engineered Norton Commando, again both fantastic bikes to ride but this time chalk and cheese.
Mark and Lizzi chose some fantastic roads to 'play' with the bikes. Nobody was silly on any of the bikes, no wheelies or stoppies which I think made the whole experience even better. You had no worries somebody would do something stupid and I now understood why Mark liked to 'vet' new guests. I would hate to let somebody I had never met ride my £100k plus collection of bikes, it's not surprising they want to try to get to know you before they let you anywhere near the fleet.
Apart from things outside anybody's control, I don't think I would have changed a single thing about the trip. The weather was not great but even that could have been a lot worse. It was a little cold and a little wet but that was it. No snow and no prolonged really wet bits. We needed to be careful on the damp roads but that didn't stop me pushing some of the bikes as hard as I would ever want to.
I met some great new friends, got to ride some fantastic machinery and feel part of a very exclusive club which I hope I can met with again for another wonderful trip.
Thank you to everyone who attended but special thanks to our hosts Mark & Lizzi, two very beautiful, down to earth people.