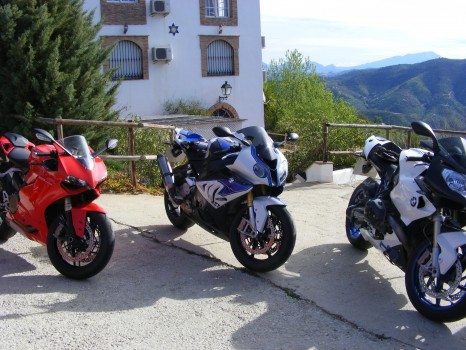 We have had the Ducati 1199 Panigale since May 2012 and it has astonished most with it's ability to cover ground quickly and efficiently in a way only a Ducati can, with character and a superb V-twin sound track! Then along came a BMW HP4, equally stunning and efficient, a MotoGP like quick-shifter gear change and, this time more character!!
The journalists have ridden these two bikes and revealed to the motorcycling world how good each is but these guys ride daily, have access to all the latest machines and can ride with the best of them, for us mere mortals, what does it all mean?
With each bike producing in the region of 190 bhp and weighing less than 200 kgs wet, they are pure missiles for the road. With F1 power to weight ratios and bought for less than a sporty Ford Focus! The speeds potentially attained are breathtaking, licence killing and at times, just plain scary! But these two bikes are way more than outright speed, it's the way they work around the fun stuff that makes them both so very special!
Having picked up the HP4 with only time to run it in and give it it's first service we loaded it into the back of our van with a new to Spyder Club 1199 and drove them, along with 9 other lovely machines, to Andalucia, southern Spain. Each year we make the journey so our members and trip guests can start their season under Spanish skies and on some of Europe's hidden gems, roads to make every rider grin at the same time as improve their riding.
From my own point of view both of these bikes are exceptional. For the average rider there is little to chose bar your own preference, 4 or 2 cylinders, the character that comes from Bologna or the efficiency of Stuttgart! Getting from A to B quicker on one or the other isn't worth considering, cornering on each bike is stable, confidence inspiring and just plain easy.
There is room on either machine for bigger riders to move around and be comfortable, making you feel like a World Superbike rider as you tip the bike in, knee pointing towards the ground but still such a long way from it, but who cares? Any rider buying one of these motorcycles is doing so to enjoy the experience and not to use it to it's full ability on the roads, it just ain't possible!
And that's about the size of it, unless you are a decent racer and using these machines on the track, the reason for ownership is just that you want one and that you'd like to own one of the very best superbikes ever made. Neither bike is better – they are different and going on the reaction from our guests in Spain it's about what suits the individual rider.
For those who have the passion for Ducati, they fell in love again with the red machine. Everyone who owned an S1000RR said the best had just got better when climbing from the HP4. Most taller riders said the Ducati gave them more room and definitely had the character over the BMW and then there were those that said the BMW could do everything, it was just so easy to ride and enjoy.
And then of course you throw the BMW HP2 Sport into the mix, a bike that flatters you at every turn, has usable power and is as common as an extremely uncommon thing! We still have our Ducati 848 as well, it's not with us in Spain and is currently on the market but again is a bike worth considering and, having ridden them all, the one I'd buy every time!!
If you want to see what I'm talking about, you know where we are…