It's the end of another year at Spyder Club and despite a summer of rain, it's been another success.
We started 2012 with our annual winter party at the British Racing Drivers Club, Silverstone. An excellent evening at a stunning venue that made it a Spyder Club get together to remember.
Our plans for the 2013 winter party are already in place and include a tour of the Norton factory with Stuart Garner followed by dinner and drinks, we are already looking forward to it.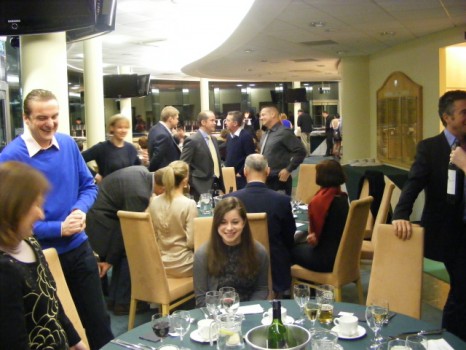 Then we had the arrival of the Ducati Streetfighter 848, a bike that proved very popular right from the start. Initial reviews were excellent and within a week the bike was run in and ready for Spain. We also purchased our beautiful Bimota DB4, a perfect little motorcycle that will be with us for a long time!
For a third year we headed back to Andalucia to begin the riding season in the Spanish sunshine. With many guests returning for their third time and a good number of newcomers we enjoyed the sensational roads of southern Spain in glorious sunshine throughout March.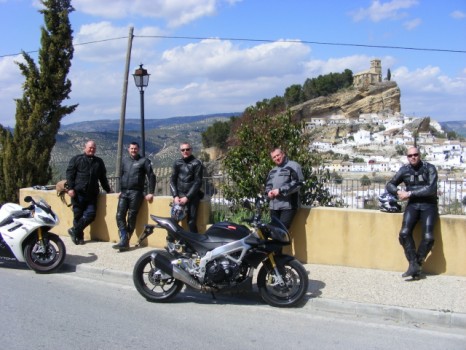 All the bikes performed admirably with guests enjoying swapping between an Aprilia Tuono V4R APRC, Triumph Daytona 675R, KTM RC8R, a Ducati Monster 1100 Evo, 848, Streetfighter 848, Diavel and Multistrada and our delightful Bimota DB4.
On our arrival back to the UK we were again blessed with sunshine and our biggest issue was worrying about how we were going to clean bikes throughout the drought that was being touted! I believe all our members can now say wet riding isn't such an issue any more!!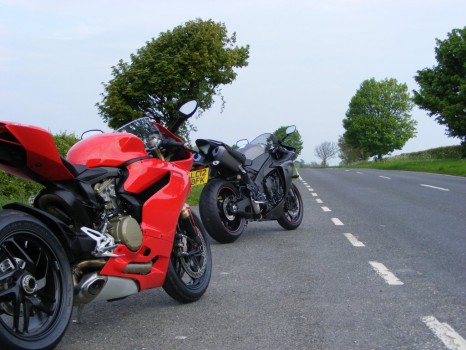 And then more new bikes arrived! Both the Ducati 1199 Panigale and Yamaha R1 were massively popular throughout the season, the 1199 narrowly beating the R1 with an extra 88 miles covered each month.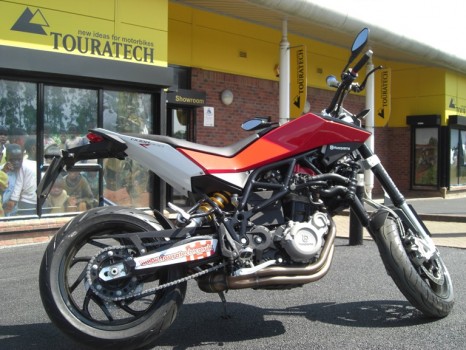 And then came the Husqvarna Nuda R, an astounding bike that flattered it's riders and surprised so many with it's ability, we hope to have another one for part of 2013.
All three bikes joined us for the first Spyder Club Open Day of the year in May, giving members a chance to meet up and potential members to get a feel for what Spyder Club offers. A great days riding superb motorcycles in splendid sunshine and good company. A members party followed, our 'club' keeps growing!!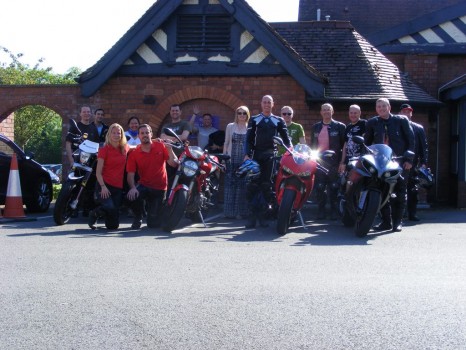 There were two more open days in July and August blessed with equally good weather and of course, great bikes and like-minded company.
We then took on the much anticipated and highly sought after Norton Commando 961 Sport, a bike that has been ridden throughout the terrible summer, in all conditions and not missed a beat!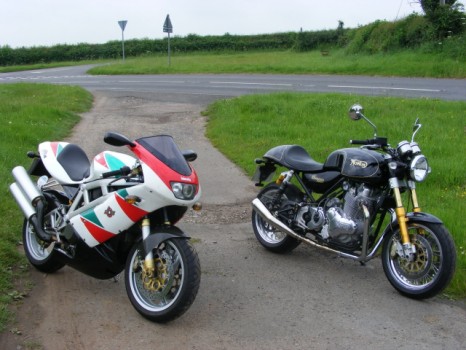 It was then time to head up to the Highlands for another visit. With our biggest group to date joining us, we enjoyed an extra day in one of the worlds most beautiful countries and on some of the most spectacular roads. Guests enjoyed swapping between the Husqvarna Nuda R, Norton Commando 961 Sport, Triumph Daytona 675R, Bimota DB4, Yamaha R1 and a host of Ducati motorcycles including the 1199 Panigale, Streetfighter 848, 848 and 900SS.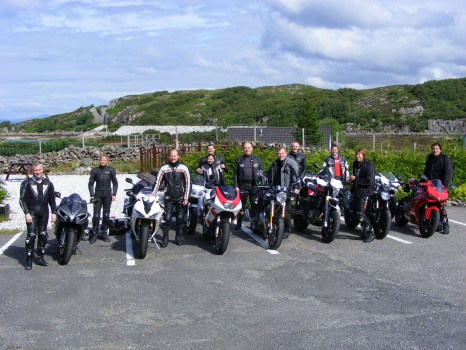 The rain continued to fall through summer but our members keep booking and riding bikes, covering a total of 50,200 miles. That's very impressive as it's almost the same as last year, pro-rata to member numbers, but during one of the wettest summers in history.
We then took on another two highly regarded bikes, the BMW HP2 Sport and a Honda CB1100RC. At the end of 2011 we conducted a member survey and the feedback suggested the need for bikes like these as well as the Diavel, Commando and Bimota but also the likes of the 1199, Multistrada and Tuono V4R.
2012 saw Spyder Club return to Provence for a second time but using new routes. The roads were exceptional, as was the group of guys who joined us in southern France and the trip now features as one of the best to date! Guests got to ride the Ducati 1199 Panigale, 848, Hypermotard 796, Yamaha R1, Bimota DB4, Norton Commando 961 Sport and the BMW HP2 Sport in perfect temperatures through beautiful scenery.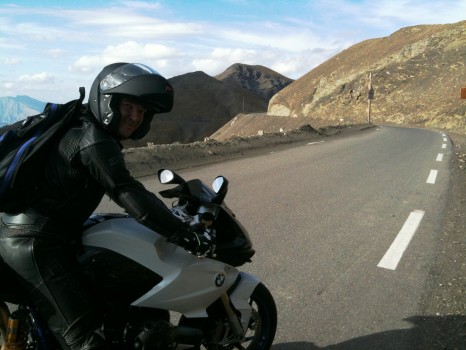 It was the first proper outing of the BMW HP2 Sport and it proved very good indeed, flattering every one of the seven riders.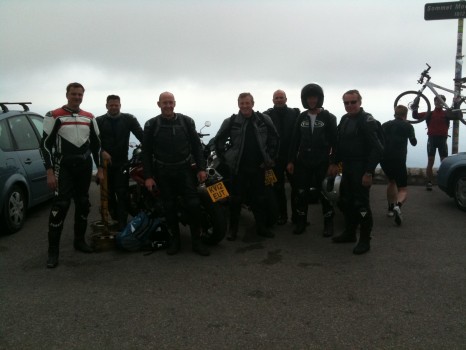 As the UK riding season was coming to an end we headed back to sunny Spain, well that was the intention!! November in Andalucia should be as good as it is in March however we were struck by terrible weather for much of the four days. Regardless we enjoyed another brilliant trip, drying our gear each night over the fire whilst discussing the events of the day! The riding standard was astounding, with absolutely no issues in conditions that would challenge the best! The bikes were perfect, a good cross section of machines for guests to enjoy, the BMW HP2 Sport, Norton Commando 961 Sport, Ducati Hypermotard 796, Diavel and 848 and a KTM SMT.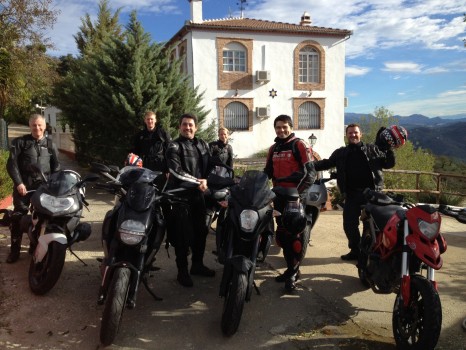 Our year was nearly done bar one last big event, the Motorcycle Live show at the NEC! We upped the ante, put more time, energy and expense into having a bigger and better stand with more bikes and it worked. The interest was good and our message came across to an audience who seemed to be ready for the services Spyder Club provides.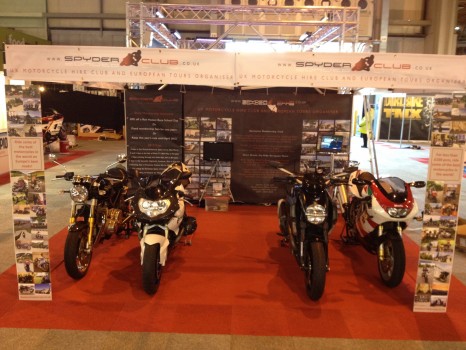 It's been a cracking year, our membership is on the rise and 70% of members are currently in their third, fourth or fifth year with Spyder Club. Our trips are filling with the same riders year on year. Many of the new guests joining us book on to another trip upon their return home and some members have booked on to as many as four trips for 2013.
So, if you too like the idea of riding an ever changing fleet of exceptional motorcycles with no depreciation or maintenance costs, from as little as £1,150 per year then we are ready and waiting to provide just that! A service that delivers a new ride to your door throughout the year, offers a club of like-minded two wheeled enthusiasts to enjoy it with and superb riding experiences on some of the worlds best bikes across Europe's best roads.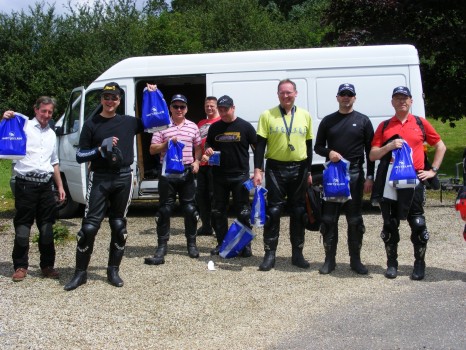 Spyder Club currently runs 10 bikes at any one time, however because we continually change the fleet, members have enjoyed 18 different motorcycles through 2012. Since we began in April 2008, members have had access to over seventy different motorcycles, 50 of which we have owned.
Through 2012 members have enjoyed the Aprilia Tuono V4R APRC, KTM RC8R, Triumph Daytona 675R, Ducati Multistrada, Diavel, Monster 1100 Evo, and 848, Bimota DB4 Ducati Streetfighter 848 and 1199 Panigale, Yamaha R1, Husqvarna Nuda R, Norton Commando 961 Sport, BMW HP2 Sport, Honda RC1100RC, Ducati 900SS, Ducati Hypermotard 796 and the KTM SMT. Coming for 2013 is a Victory Judge, a KTM 690 Duke and even a part time Can Am Spyder, more will be announced in the new year.
Isn't it time you joined Spyder Club?
Or took part in a fly-ride motorcycle tour?