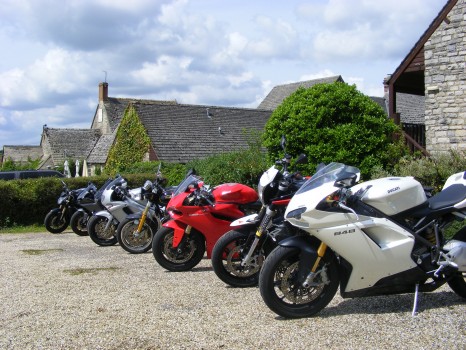 After so much bad weather over the last three months, summer started this weekend in time for the Spyder Club Open Day! Our guests enjoyed a good day of riding from the Bird In Hand near Witney where we were well looked after by the new owners.
Guests got to ride the Yamaha R1, Ducati 1199 Panigale, Norton Commando, Bimota DB4, Husqvarna Nuda R, Ducati Streetfighter 848 and 848 over a 15 mile route which gave non-members an idea of what Spyder Club can provide and members a chance to meet friends and find out what to book next!
A superb days riding, thanks to all those who came to see us and to Metzeler Tyres for providing not only superb motorcycle rubber but goody bags with helmet cams for all our guests to take away!
Paul S, member, Thanks for a very enjoyable day today. It was great to try such an interesting contrast of bikes.
Adam K, member, Thanks for a great day yesterday. Good to ride in nice weather for a change. Please send my thanks to the staff at the bird in hand as the food was yum!
As always a special thank you to all our partners linked above and the following, Spyder Club is a happier business because you are all involved, Pidcock Triumph, Touratech and Ducati Coventry