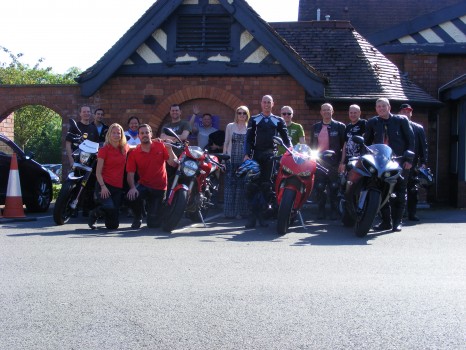 A perfect day, the sun shone, the riding and company were excellent and the bikes available for guests to try were fantastic! A huge thank you to all of you who attended, making Saturday the 26th May such a good Spyder Club Open Day!!
The new additions to the Spyder Club fleet were very well received. The Ducati 1199 Panigale was praised for it's ability to make guests feel very special, it's handling and brakes and that engine! The Yamaha R1 also impressed with it's characterful and super smooth inline four motor that provided effortless pace. The R1 and 1199 are very different but both showed why they have a big following.
The Husqvarna Nuda R gifted a smile to everyone that rode it. It was obvious some of our guests weren't sure about it prior to riding it but everyone who did came back raving about the fun factor, with a superb engine and chassis combination it surprised many!
As did the Bimota DB4, with 80 bhp it's far from the fasted bike on the Spyder Club fleet but just like the 1199 it has the ability to made the rider feel very special. The handling is still up there despite it being ten years old.
All the bikes available were enjoyed, the Triumph Daytona 675R, Ducati Streetfighter 848, Monster 1100 Evo and the unbelievably good Diavel entertained everyone riding at the Spyder Club Open Day.
A great day that ran into an evening meal to celebrate the life of our late friend and member, Vince Kerr, rest in peace!