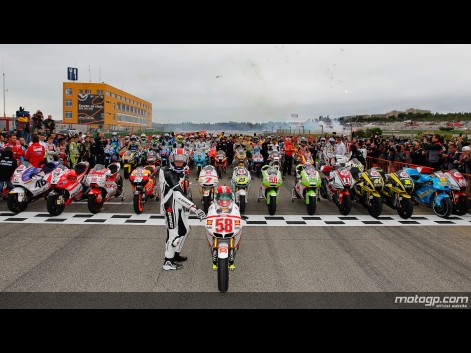 An emotional tribute to Marco Simoncelli started off race day at the Valencia round of MotoGP as riders from all classes completed a lap of the track lead by Kevin Schwantz on Marco's Honda Gresini bike. The remainder of the teams, paddock and officials then gathered for a minutes noise in celebration of Marco's life. Many of the riders and teams wore tributes to Super Sic and Loris Capirossi, riding his last race in MotoGP, took number 58 round the track for the final time.
Nicolas Terol was crowned 125cc world champion after Johann Zarco, his closest challenger disappointingly crashed out early in the race. Danny Webb riding the Mahindra bike had set the fastest time in qualifying and after a great start lead the race for the first few laps. The race was won by the star of the future Maverick Vinales who with support from Paris Hilton (!) has had a phenomenal start to his international career and was awarded the Rookie of the Year.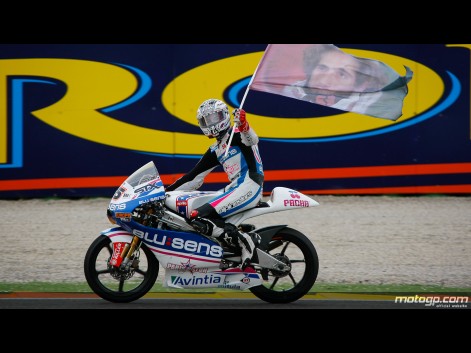 Stefan Bradl already knew he was the Moto 2 world champion after Marc Marquez still had sight problems after crashing in Sepang. Bradl started the race well but in extremely difficult conditions crashed and seemed relieved to be safely back in his garage. The race fittingly was lead by Gresini Racing team mates Yuki Takahashi and Michele Pirro who both had tributes to Marco on their bikes. There was a heart stopping moment when Takahashi high sided in the lead, he was confirmed okay but being kept in hospital for observations. After an eventful race Michele Pirro went on to win – his first in Moto 2 – which he dedicated to his late team mate.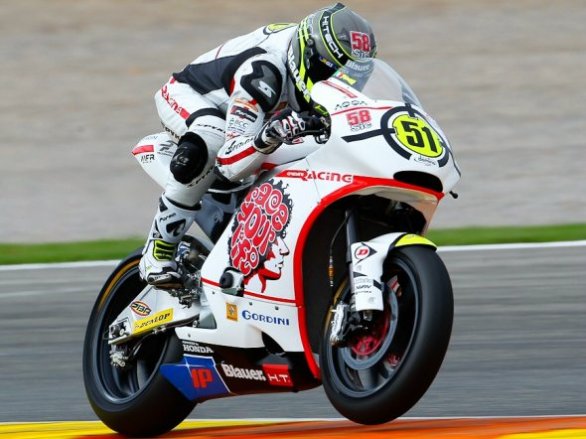 MotoGP immediately got off to an exciting and disappointing start! Everyone was keen see the Ducatis perform after improvements in qualifying and showing better pace in conditions where Rossi seems to ride well. The possibility of a podium seemed not unachievable, however a crash in the first corner involving Bautista on the Suzuki took out both Rossi, Hayden and Randy de Puniet leaving a large gap in the field.
The race was eventually won by the narrowest of margins by Casey Stoner on the line, with Ben Spies looking initially like he had taken his second race win of the season. Cal Crutchlow scored his highest finish of the year securing fourth place and in doing so also taking the Rookie of the Year title in MotoGP.
For the first time MotoGP had lined up without Marco Simoncelli and it was time for the 2011 racing season came to a welcome close.
Ciao Marco, Super Sic, #58