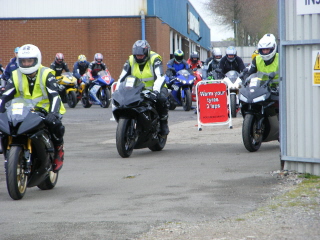 The 10th April saw the first Spyder Club members track day at Donington Park.  In association with Focused Events and GP Bike Track Days our members were guided round the circuit on Spyder Club's Yamaha R6, Suzuki GSx-R750 and Honda Fireblade as well as having access to road bikes whilst not on track.
Everyone who attended enjoyed the day – bar the weather – and there are more planned for May.  Anyone wishing to join us should get in touch as soon as possible and let us know their preference for the following dates: 21st, 22nd and 26th May.
For further details please call us on 01332 850344 or contact us.