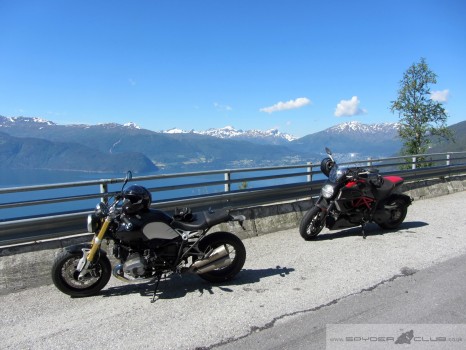 The first Spyder Club venture to the spectacular Norwegian Fjords has been a roaring success with our guests stunned by the views and riding Norway has to offer.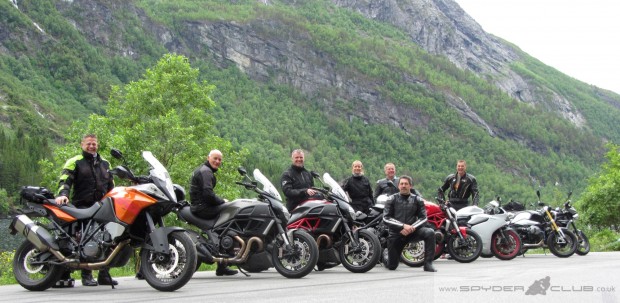 We purposely took a selection of upright bikes, with the exception of the Ducati 899 Panigale for those who wanted some time on a sportier machine, and the fleet proved the perfect asset to the scenery. Riders were able to spend plenty of time looking at the majestic views which appeared after each and every bend in the road.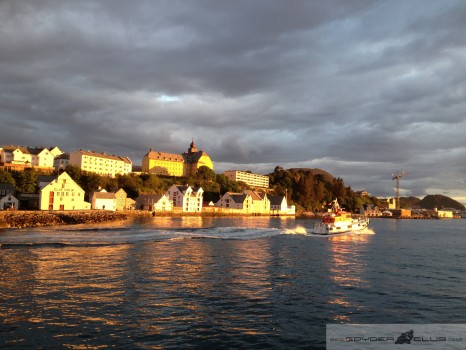 Based in the pretty harbour town of Alesund, we spend the majority of time riding the routes south of our Norwegian home. Enjoying roads such as the E63, which took us over the Trollstigen (or Troll's Ladder) and up from Geirangervegen which provides the highest viewing point of the Fjords in Norway. Sadly we didn't see any trolls en route but the E63 was definitely a favourite road as the riding and scenery were simply stunning.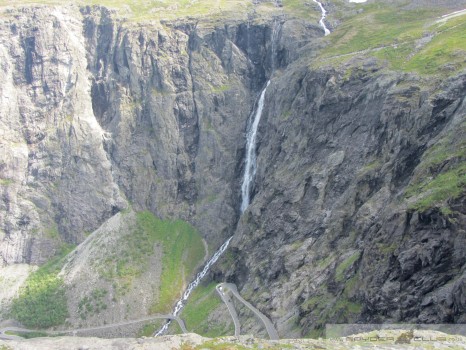 Another 'must ride' is the E39 which we rode and drove from the east of Kristiansund to Bergen and enjoyed every mile. Definitely the best motorbiking roads we experienced were south east of Alesund, but the Atlantic Road is a must see which covers eight awe inspiring bridges, the unique sights to behold are well worth the trip.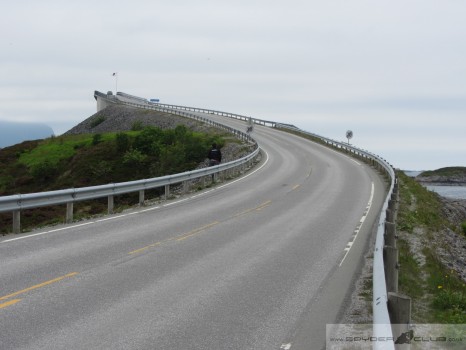 We covered the most amount of miles within four days on a Spyder Club trip and with so much water to cross we had planned for long days in the saddle. However the convenience and simplicity of the Norwegian ferry service meant we were always back in the light!! Seriously, as the sun didn't set until well after we'd gone to bed this was always going to be the case but we were always back within good time for an expensive beer in the bar and dinner!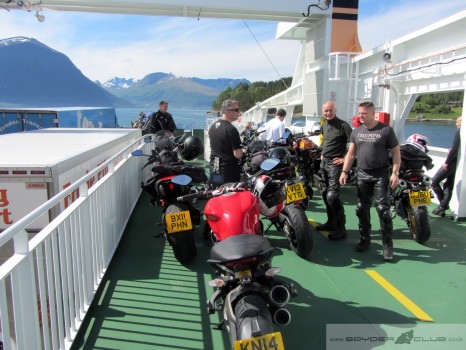 Norway isn't cheap but worth every Kroner. With a beer averaging about £8 a pint and dinner around £75 a head it's not a budget trip. There is good food to be found however and the friendly and helpful Norwegians will happily point you in the right direction in the best Queen's English!
It is very easy to see why Norway attracts so many tourists in the peak season as the Norwegian people make you feel very welcome in their stunning country. We purposely ran our motorcycle tour early in the season as we had been advised that the weather is more settled and roads quieter and this certainly proved the case. Most people rode in textiles but we were very lucky with the weather and only saw an hour of drizzle when riding.
Spyder Club will definitely be returning to the Norwegian Fjords in 2016, get your name on the list now.
Until then, a few more pictures to whet your appetite…